Google Ads has announced that it is introducing a new budget report so that advertisers can better monitor their monthly spend.
And considering we all know how complicated it is to understand where our budget is being spent, this is good news indeed.


What the new Google Ads budget report shows
The new budget reports provide information to advertisers on how to estimate spending at the end of the month. Likewise, it shows information on how changes to daily budget limits can affect ROI.
The new Google Ads budget report highlights the following data sets:
Daily spend (solid gray line): Daily spend can be as much as double the average daily budget on days when your ad is most likely to receive clicks and conversions.


The monthly spend limit for your campaign

(dashed blue line)

: Cannot exceed the average daily budget multiplied by the average number of days in that month.


Monthly spending forecast

(solid blue line)

: Also includes the cost to date and budget changes made during the current month.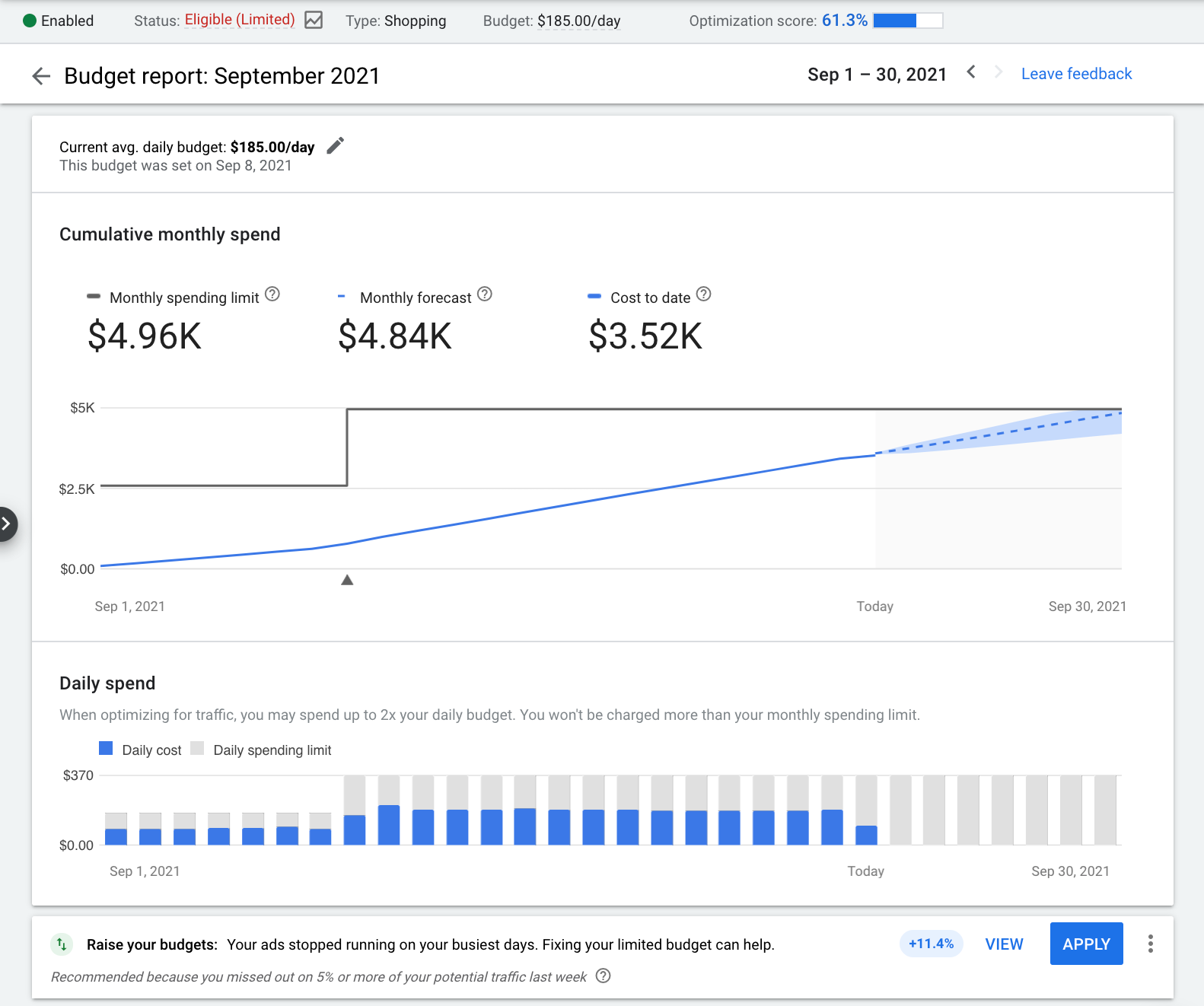 The blue shaded area shows the prediction ranges, which indicate the upper and lower limits at which the actual total spend may reach on a given day.
The arrow icons indicate the daily budget changes on a given day. By placing the cursor over the arrows, we can see the budget changes made that day.
With the information provided by these new reports, advertisers will have a better reference of the performance of their campaigns for better planning. This is good news for advertisers, considering the platform's decreasing data transparency in recent months. Proof of this is the combination of Smart Display and Standard Display campaigns, or the elimination of Expanded Text Ads.


How to access the Google Ads budget report
In order to access the budget report, you will need to have a campaign with a date range that includes the current month.
Once created, you can access the budget report from the Campaigns page, Ad Group and the Shared Library. For example on the Campaigns page, we can access the budget report by hovering over the "Campaign Budget" option and then "Get Report".
To learn more about how Budget Reports work, you can do so through the Google Ads Help portal.


Thanks so much for reading me once again!
And if you have any feedback you'd like to share with us about the new Budget Reports...I'd be happy to read it in the comments! :)


Best regards,
JOS (without the E)